Why Choose Tungsten Carbide Wire Drawing Die
Wire drawing dies are usually used to shorten the diameter of various ferrous and non-ferrous metal rods and wires. Applications include various grades of low/medium/high carbon steel, steel alloys, stainless steel, welding wire, etc.

Carbide mold & dies is an excellent choice for manufacturing ferrous metal rod size wires. They are also ideal for short trial runs. Mirror polishing and smooth lead wire is used to ensure the long service life and wire drawing.


Advantages Of XYMJ Tungsten Carbide Wire Drawing Dies

1. excellent wear-resistance, adopting GB class A cemented carbide mould core with strength over 2200N/mm 3.
2. More wire rods can be drawn: the size is 20% longer than common mould, which makes XYMJ wire drawing dies can work longer.
3. Tightening connected with the steel jacket: adopting advanced cold bushing technology and interference bushing craft, they are tightening connected with the steel jacket.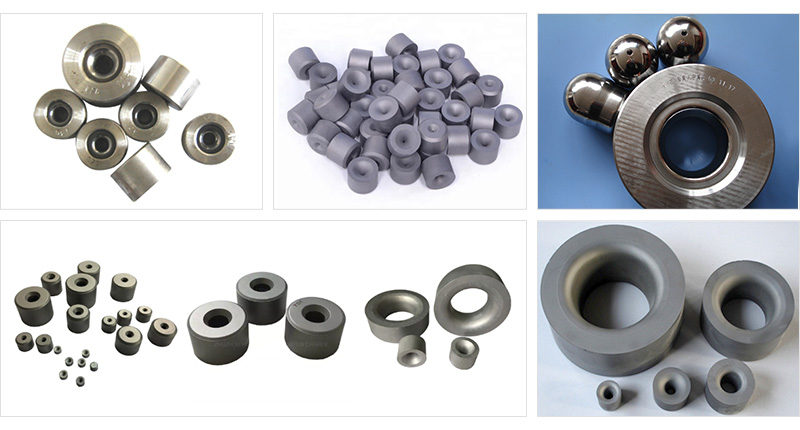 Grade List
Chinese Grade

Equal to ISO Category Number

Chemical Composition

Physical Mechanical Properties

WC

Co

Density

Bend Strength

Hardness

%

%

G/Cm3

N/mm2

HRA

YG3

K01

96.5-97

3

14.9-15.3

≥1180

≥91.0

YG6X

K10

93.5

6

14.8-15.1

≥1420

≥92

YG6

K20

94

6

14.7-15.1

≥1600

≥91

YG8

K20-K30

92

8

14.5-14.9

≥1600

≥90

YG10

K40

90

10

14.3-14.7

≥1900

≥89

YG10X

K40

89

10

14.3-14.7

≥2200

≥89.5

YG15

K30

85

15

13.9-14.2

≥2100

≥87

YG20

K30

80

20

13.4-13.7

≥2500

≥85.5

YG20C

K40

80

20

13.4-13.7

≥2200

≥85.5

YG30

G60

70

30

12.8

≥2750

≥82
Grade
Co (wt%)
Density (g/cm3)
Hardness (HRA)
TRS (≥N/mm2)
Applications
XC100
5.8-6.2
14.6-15.0
91.5-92.5
2000
Wire drawing dies for wear-resistance impact-resistance
XC101
5.8-6.2
14.6-15.0
91.5-92.5
2500
XC200
7.8-8.2
14.5-14.9
91.0-92.0
2100
XC201
7.8-8.2
13.5-14.9
91.0-92.0
2800
XC300
9.8-10.3
14.2-14.6
90.5-91.5
2600
XC301
9.8-10.3
14.2-14.6
90.5-91.5
3200
XC500
14.7-15.3
13.9-14.2
87.0-88.0
2600
Stamping dies for impact-resistance
XC501
14.7-15.3
13.9-14.2
87.0-88.0
2800
XC800
19.5-20.5
13.4-13.6
83.0-84.0
2600
XC8001
19.5-20.5
13.4-13.6
83.0-84.0
3000
XC900
23.0-23.5
13.1-13.4
82.5-83.5
2400
XC901
23.0-23.5
13.1-13.4
82.5-83.5
2600
Grade
Co+Ni (wt%)
Density (g/cm3)
Hardness (HRA)
TRS (≥N/mm2)
Applications
XCN61
16.0-17.0
13.5-14.0
83.5-84.5
3200
Stamping dies for High temperature-resistance
XCN71
17.0-18.0
13.3-13.8
82.0-83.0
3000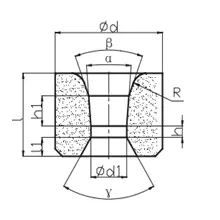 Dimension
d
l
d1
h
h1
ll
8
6
0.1-1.0
0.1-10.6
1.0-2.0
0.8-1.2
10
8
0.1-1.2
0.1-0.8
1.5-4.0
1.0-1.8
12
10
0.2-2.0
0.1-1.5
2.0-5.0
1.6-2.5
14
12
0.4-2.5
0.2-2.0
4.0-5.0
1.8-2.5
16
13
0.5-3.0
0.2-2.5
4.0-5.5
2.0-3.0
20
17
1.0-6.0
0.6-3.0
5.0-8.0
2.5-4.0
25
20
2.0-8.5
1.0-3.5
7.0-10.0
3.0-4.5
30
24
3.5-12.0
2.0-4.0
8.0-12.0
3.0-5.0
Notice: α=8°10° 12° 14°16°18° β=40° 60° 90° γ=60° 75° 90°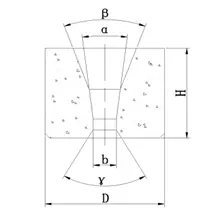 Dimension
ΦD
b
H
α
β
γ
6.0-8.0
0..2
4.0-6.0
10°
40°
60°
6.0-8.0
0.4-0.8
4.0-6.0
40°
*
8.0-22.0
0.4-5.7
6.0-20.0
10°-14°
40°
8.0-26.0
0.4-8.0
6.0-16.0
16°
40°
30.0-140.0
3.7-84.0
21.0-50.0
14°-20°
*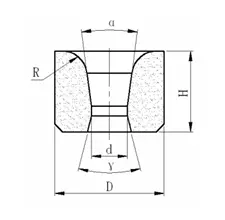 Dimension
ΦD
Φd
H
α
γ
R
16.0-110.0
2.0-60.0
14-52
3°
60°
40
16.0-110.0
20.0-62.0
35-45
4°
15.0-40.0
16.0-110.0
2.8-88.0
13-50
24°
3.0-10.0
16.0-110.0
20.0-70.0
32-55
*
3.0-40.0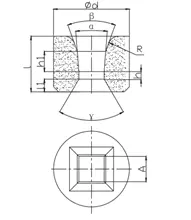 Dimension
d
l
A
h
h1
ll
16
12
1.5-2.5
0.5-1.5
4.0-6.0
1.0-2.0
22
18
2.0-4.0
1.0-2.0
5.5-9.0
1.5-2.5
30
21
3.5-7.0
1.5-2.5
8.0-12.0
1.5-2.5
35
25
6.5-10.0
2.5-3.5
10.0-14.0
2.0-4.0
45
25
8.0-15.0
3.0-4.0
10.0-14.0
2.0-4.0
50
28
12.0-20.0
3.5-4.5
12.0-16.0
2.0-4.0
60
30
18.0-25.0
4.0-5.5
12.0-16.0
3.0-5.0
65
32
22.0-30.0
5.0-7.0
12.0-16.0
4.0-6.0
70
35
26.0-35.0
6.0-9.0
14.0-18.0
5.0-7.0
80
35
30.0-40.0
6.0-9.0
14.0-18.0
5.0-7.0
90
40
35.0-45.0
6.0-9.0
14.0-18.0
5.0-7.0
100
40
40.0-50.0
6.0-9.0
14.0-18.0
5.0-7.0
120
45
45.0-55.0
6.0-9.0
14.0-18.0
5.0-7.0
Note:α=14° 16° 20° β=40° γ=60°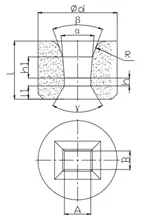 Dimension
d
l
A
B
h
h1
ll
20
12
1.5-3.5
0.5-1.5
1.5-2.5
3.0-5.0
1.5-2.5
22
12
3.0-5.0
0.5-2.0
1.5-2.5
3.0-5.0
1.5-2.5
25
15
3.5-7.0
0.5-4.0
2.0-3.0
4.0-6.0
2.0-3.0
32
16
5.0-9.0
1.5-4.0
2.0-3.0
4.0-6.0
35
18
7.0-12.0
1.0-6.0
2.0-3.0
5.0-8.0
2.0-3.0
25
7.0-12.0
2.0-8.0
2.5-3.5
7.0-13.0
2.5-3.5
45
20
10.0-15.0
1.0-7.0
2.5-3.5
5.0-8.0
2.5-3.5
25
10.0-15.0
4.0-10.0
3.0-4.0
7.0-14.0
2.5-3.5
50
20
12.0-24.0
1.0-8.0
2.5-3.5
5.0-96.0
2.5-3.5
28
12.0-24.0
6.0-16.0
3.0-4.0
8.0-15.0
2.5-3.5
60
20
18.0-32.0
1.0-9.0
2.5-4.0
5.0-10.0
2.5-3.5
30
18.0-32.0
7.0-16.0
4.0-6.0
8.0-16.0
3.0-5.0
Note: α=° 14°18° β=40° 60° γ=60°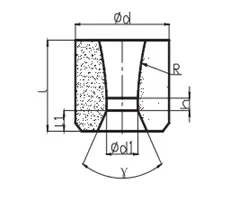 Dimension
d
l
d1
h
h1
R
30
18
10.0-18.0
5.0-10.0
1.0-2.0
30
50
32
16.00-24.0
9.0-14.0
1.5-2.5
30
60
35
22.0-30.0
9.0-14.0
1.5-2.5
30
70
42
28.0-36.0
12.0-18.0
2.0-3.0
35
75
42
34.0-42.0
12.0-18.0
2.0-3.0
35
85
45
40.0-48.0
12.0-18.0
2.5-3.5
40
100
50
46.0-56.0
16.0-22.0
2.5-3.5
40
110
50
54.0-64.0
16.0-22.0
2.5-3.5
40
125
55
62.0-72.0
16.0-22.0
2.5-3.5
40
Note: γ=60°