Why Choose Tungsten Carbide Rod
The carbide rod has a grain size of 0.5 µm and a cobalt content of 12% ensures that it has ultra-high toughness and high hardness. In addition to hole processing and thread processing, the tungsten carbide rod is particularly suitable for milling titanium alloys, heat-resistant alloys, gray cast iron, stainless steel, hardened steel (hardness <60HRC), steel glass and some composite materials. It can withstand high compressive stresses imposed during cutting, as well as having good wear and oxidation resistance at the high temperatures reached.

XYMJ manufactures tungsten carbide rods with 100% virgin material with high stability and high performance. Various Fine grinding rods, tungsten carbide plates, carbide strips, customized tungsten carbide wear parts also can be supplied by XYMJ.



Mold Parameter Diagram



Dimensions(mm)


Specification D*L
Diameter Tolerance (mm)
Length Tolerance (mm)
Specification D*L
Diameter Tolerance (mm)
Length Tolerance (mm)
φ1.0-2.5*330
+0.25
+0.15
+7.0
+3.0
φ15.9-19.5*330
+0.6
-0.3
+7.0
+3.0
φ3.0-9.5-330
+0.40
+0.20
+7.0
+3.0
φ20.0-29.5*330
+7.0
+0.4
+7.0
+3.0
φ10.0-15.0*330
+0.50
+0.30
/
/
/
/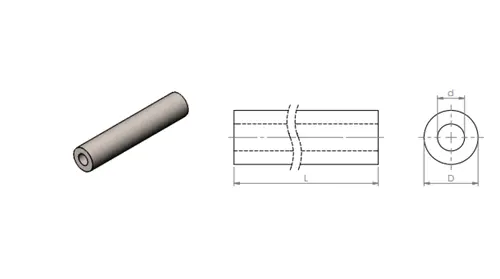 Outer Diameter (mm)
Inner Diameter (mm)
Length (mm)
OD Tolerance (mm)
ID Tolerance (mm)
Length Tolerance (mm)
φ2-7
φ0.4-3.0
330

+0.6

+0.2

+0.0

-0.2

+7.0

+3.0

φ8-11
φ0.4-7.0
330

+7.0

+3.0

+0.0

-0.2

+7.0

+3.0

φ12-19+7.0

φ0.4-10.0
330

+0.9

+0.4

+0.0

-0.3

+7.0

+3.0

φ20-30
φ0.4-16.0
330

+0.1

+0.5

+0.0

-0.3

+7.0

+3.0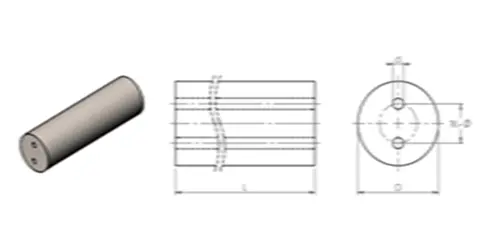 Outer Diameter (mm)
Double Inner Hole Diameter (mm)
Pitch-raw TK(mm)
Length (mm)
OD Tolerance (mm)
ID Tolerance (mm)
Pitch-raw TK(mm)
Length Tolerance (mm)
φ4-11
φ0.8-1.4
1.72-4.85
330

+0.4

+0.3

±0.10
±0.20

+7.0

+3.0

φ12-19
φ1.75-2.0
5.85-8.85
330

+0.7

+0.4

±0.15
±0.25

+7.0

+3.0

φ20-24
φ2.5
9.80-11.75
330

+0.8

+0.5

±0.20
±0.30

+7.0

+3.0

φ25-30
φ3.0
11.75-13.75
330

+0.9

+0.6

±0.25
±0.35

+7.0

+3.0
Grade List
Chinese Grade

Equal to ISO Category Number

Chemical Composition

Physical Mechanical Properties

WC

Co

Density

Bend Strength

Hardness

%

%

G/Cm3

N/mm2

HRA

YG3

K01

96.5-97

3

14.9-15.3

≥1180

≥91.0

YG6X

K10

93.5

6

14.8-15.1

≥1420

≥92

YG6

K20

94

6

14.7-15.1

≥1600

≥91

YG8

K20-K30

92

8

14.5-14.9

≥1600

≥90

YG10

K40

90

10

14.3-14.7

≥1900

≥89

YG10X

K40

89

10

14.3-14.7

≥2200

≥89.5

YG15

K30

85

15

13.9-14.2

≥2100

≥87

YG20

K30

80

20

13.4-13.7

≥2500

≥85.5

YG20C

K40

80

20

13.4-13.7

≥2200

≥85.5

YG30

G60

70

30

12.8

≥2750

≥82